Your Car :: Getting a Good Fit
With a growing senior population and advancing technology, automakers are designing vehicles geared towards the needs of senior drivers. These new models have enhanced features, including: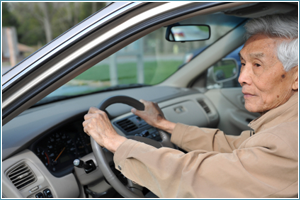 Clearer dashboard displays
Wider doors
Easier seat controls
More precise seating adjustments
Night vision technology
Adjustable pedals
When searching for a new vehicle, look for ones that add to your comfort and control and offset any loss you have experienced in strength or visibility. You could consider:
Automatic transmission
Power windows and door locks
Low door threshold - Makes vehicle entry and exit easier
Four doors - Requires less strength to open and close doors than two-door models, which have longer, heavier doors
Power steering
Dynamic stability control - A feature that helps prevent loss of control in a turn, enabling you to compensate for slower reaction times and make quick corrections
Power anti-lock brakes - Prevents wheels from locking during emergency breaking
6-position adjustable seats - Makes it easier to enter and exit vehicles and adjust seats for leg room, and it allows you to obtain a line of sight above the steering wheel
Heated seats with lumbar support - Can assist with back pain
Telescoping or tilting steering wheel - Ensure that you can position yourself at least 10 inches from the front airbag, and helps you alleviate neck and shoulder pain
Thick steering wheel - Requires less hand and wrist strength to grip and handle
Steering wheel covers - Improves your grip to compensate for arthritis in your upper body
Automatic day/night (electrochromic) rearview mirror
Rear window defroster
Power-adjust side mirrors - Easier to adjust for drivers with limited strength and arthritis
Large, wide-angle mirrors - Helps you compensate for limited range of motion or difficulty turning to check blind spots
Keyless entry and keyless ignition mounted on the dashboard - Helps avoid difficulty that can occur by turning a key in the lock or ignition
Dual front air bags
Daytime running lights - Make it easier for others to see you
Amber turn signals
Un-tinted windshield
Easy-to-reach controls
Large and well-lit dashboard controls and buttons - Easier to use than knobs
Visors and extendable sun visors - Helps you adjust to and prevent glare
Tire Pressure Monitoring System - Alerts you when tire pressure is low
The visibility of your vehicle on the road is also important. Studies show that the most visible vehicles on the road have light, single-tone paint jobs. Industry analysts report the safest colors to be greenish yellow, cream, yellow and white. The least safe colors are red and black
Larger vehicles tend to be easier for senior drivers to get in and out of, thanks to more head room, leg room, and higher seats.
But only you can determine how comfortable you feel in a car. So take a test drive!
As you get in and out of the vehicle, notice whether you have to bend uncomfortably or have trouble lifting your legs
Behind the wheel, check thoroughly for any blind spots

The rearview mirror should show as much of the rear window as possible
Look over your shoulder on both sides to confirm that you can see clearly

Adjust the seat. Assure that you can easily adjust the height and tilt
Make sure the top of the steering wheel is no higher than the top of your shoulders

Also check that you can steer freely. Grasp the steering wheel so your hands lay at 8 o'clock and 4 o'clock, with your upper arms resting on your ribcage. Turn the steering wheel and turn it to the left and right
Assure that you can comfortably reach the pedals while steering, as well as the radio and temperature controls

Confirm that there is at least 10 to 12 inches between your chest and the front airbag and steering wheel
Try out the seat belt to make sure it fits properly. You will be wearing it every time you get in your car!

An improperly adjusted shoulder harness that puts pressure on your neck can cause dizziness and a drop in blood pressure
The lap belt should go across your hips, and the shoulder belt should go across your rib cage and not under your arm

Make sure the headlights and windshield wipers work properly to enhance vision
If you use a wheel chair or walker, be sure it can fit comfortably in your car and easily be taken in and out